Sounding Circuits: Audible Histories up now at the Library for the Performing Arts at Lincoln Center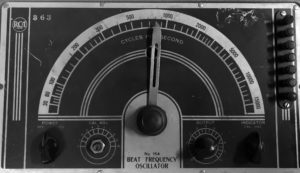 In the new free exhibition Sounding Circuits: Audible Histories, The New York Public Library for the Performing Arts will bring to life the network of innovative composers and technologists who helped create an entirely new way to think about and create music. Curated by artist and composer Seth Cluett, current artist-in-residence at Nokia Bell Labs and Acting Director of the Computer Music Center at Columbia University, Sounding Circuits: Audible Histories features a state-of-the art immersive multi-channel audio system surrounded by rare objects, artifacts and recordings from the early history of electronic music. The exhibition will be on display from January 15, 2019, through March 23, 2019 in the Library's Vincent Astor Gallery.
The exhibition will also debut a suite of immersive 360-degree sound works composed by Cluett commissioned by the Library and developed during his four-month research residency with NYPL's Music and Recorded Sound Division. These new works will be be presented alongside archival compositions drawn from the libraries collections that reinforce themes of the exhibition.
Sounding Circuits explores the significant contributions of pioneering electronic and computer music composers like Charles Dodge, Otto Luening, Pauline Oliveros, and Edgar Varèse, drawing together primary source materials including personal correspondence, historical recordings, technical documentation, and musical sketches and scores from across the Library for the Performing Arts' rich collections. Visitors will see original electronic sound processing equipment, oscillators, early mixing consoles, a full-scale photographic reproduction of the legendary Columbia-Princeton Electronic Music Center's RCA Mark II synthesizer, a print-out of the computer code for Dodge's seminal composition "Earth's Magnetic Field," and supporting documentation and artifacts drawn from the archives at Nokia Bell Labs.
"I really wanted to showcase the dynamic and supportive social connections at play at a time when electronic and computer music were brand new," explains Cluett, "and the artifacts and archival recordings help tell that story. I hope the historic works, when paired with my new compositions, help people hear how fresh and exciting these classic pieces really are."
The Library for the Performing Arts will present several public programs in conjunction with the exhibition. Visit nypl.org/lpa for additional details.
Press Contact: Nora Lyons (noralyons@nypl.org)
The New York Public Library for the Performing Arts gratefully acknowledges the leadership support of Dorothy and Lewis B. Cullman. Additional support for exhibitions has been provided by Judy R. and Alfred A. Rosenberg and the Miriam and Harold Steinberg Foundation.
Sounding Circuits is presented in collaboration with Computer Music Center at Columbia University and Nokia Bell Labs Experiments in Art and Technology.
About The New York Public Library For The Performing Arts, Dorothy and Lewis B. Cullman Center
The New York Public Library for the Performing Arts houses one of the world's most extensive combinations of circulating, reference, and rare archival collections in its field. These materials are available free of charge, along with a wide range of special programs, including exhibitions, seminars, and performances. An essential resource for everyone with an interest in the arts — whether professional or amateur — the Library is known particularly for its prodigious collections of non-book materials such as historic recordings, videotapes, autograph manuscripts, correspondence, sheet music, stage designs, press clippings, programs, posters and photographs. The Library is part of The New York Public Library system, which has 90 locations in the Bronx, Manhattan and Staten Island, and is a lead provider of free education for all.